Professional hot and cold facial vibration massage beauty devices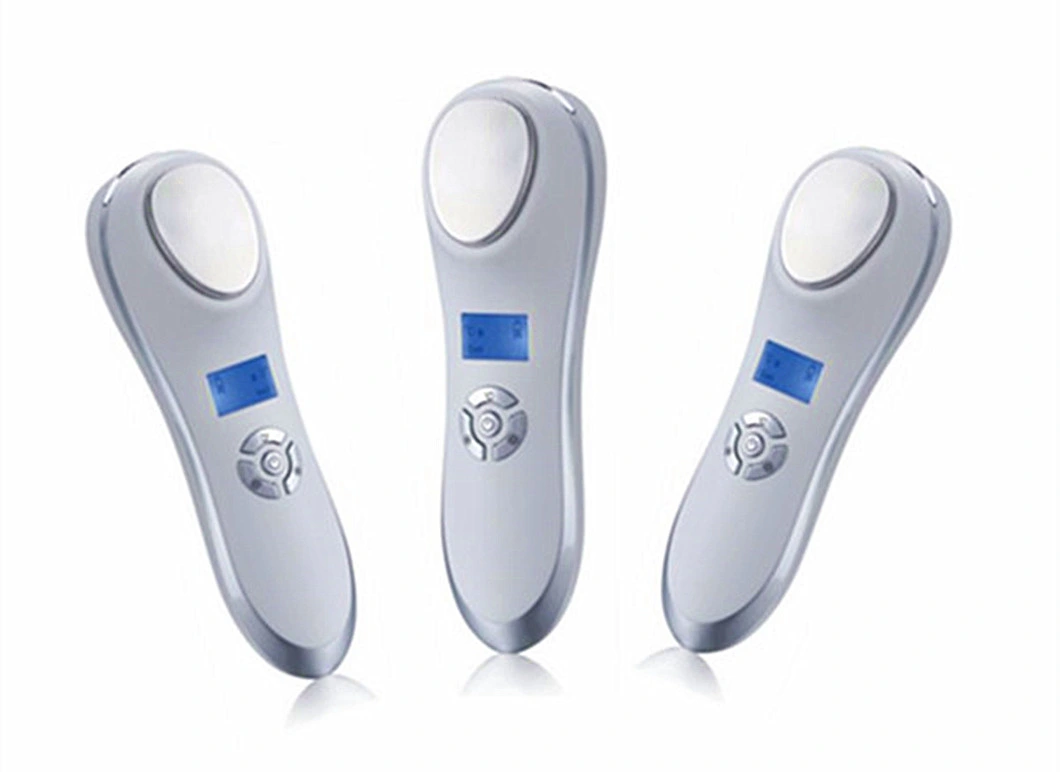 Parameters:
| | |
| --- | --- |
| Material | ABS+ beauty screen stainless steel |
| Size: | L155*W51*H44mm |
| Weight | 120g |
| Battery type | rechargeable with usb cable |
| Frequency | 8600rpm |
| Color | White/Rose&Pink/Apple&Green/Grey/Golden |
| Design: | Fashion design |
1. Skin rejuvenation, Shrink pore, skin tightening , improve skin-elasticity and skin-shine.
2. Lymphatic Drainage, Improve Blood Circulation ,Helps To Detox
3. Helps The Skin Care Products deeply Inject into the Skin ,Avoid Nutrition Releasing .Keep Moisturizer.
4. Wrinkle Removal ,Anti-puffiness.
5. Face lift,whitening , black circle removal
6. Stimulate blood circulation, Lymphatic drainage,detox...
Feature:
.USB rechargeable
.4 massage functions(hot,cool,hot&sonic and cool&sonic)
.Hot Massage: 43°C
Increases blood circulation and helps to better absorb skin care products.
With Sonic Vibration:Strengthens the effect of Hot Massage.
.Cool Massage: 5°C
Tightens the skin and shrinks pores, improves skin texture and removes fine lines and wrinkles.
With Sonic Vibration: Strengthens the effect of Cool Massage.
.The massage head with cream,making the skin look smoother, tighter, and more flexible.
. Auto-timing system:5minutes
Hot cold vibrate home use beauty device detail picture: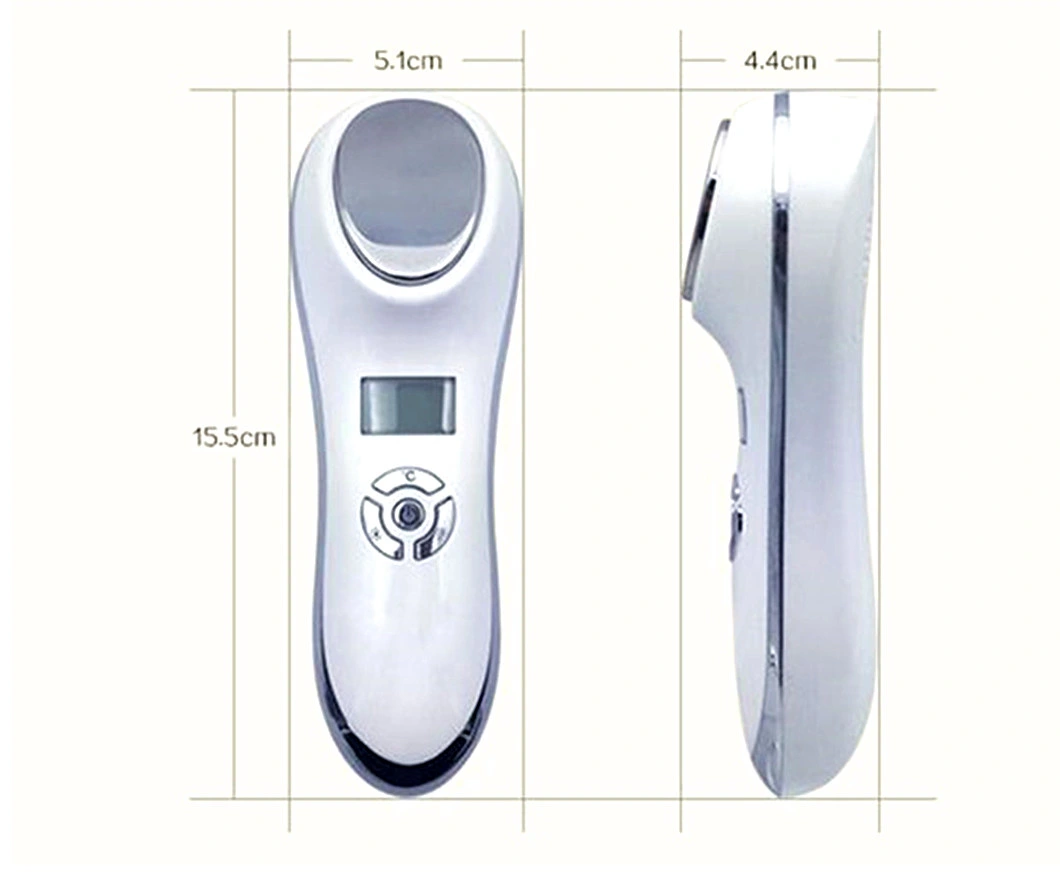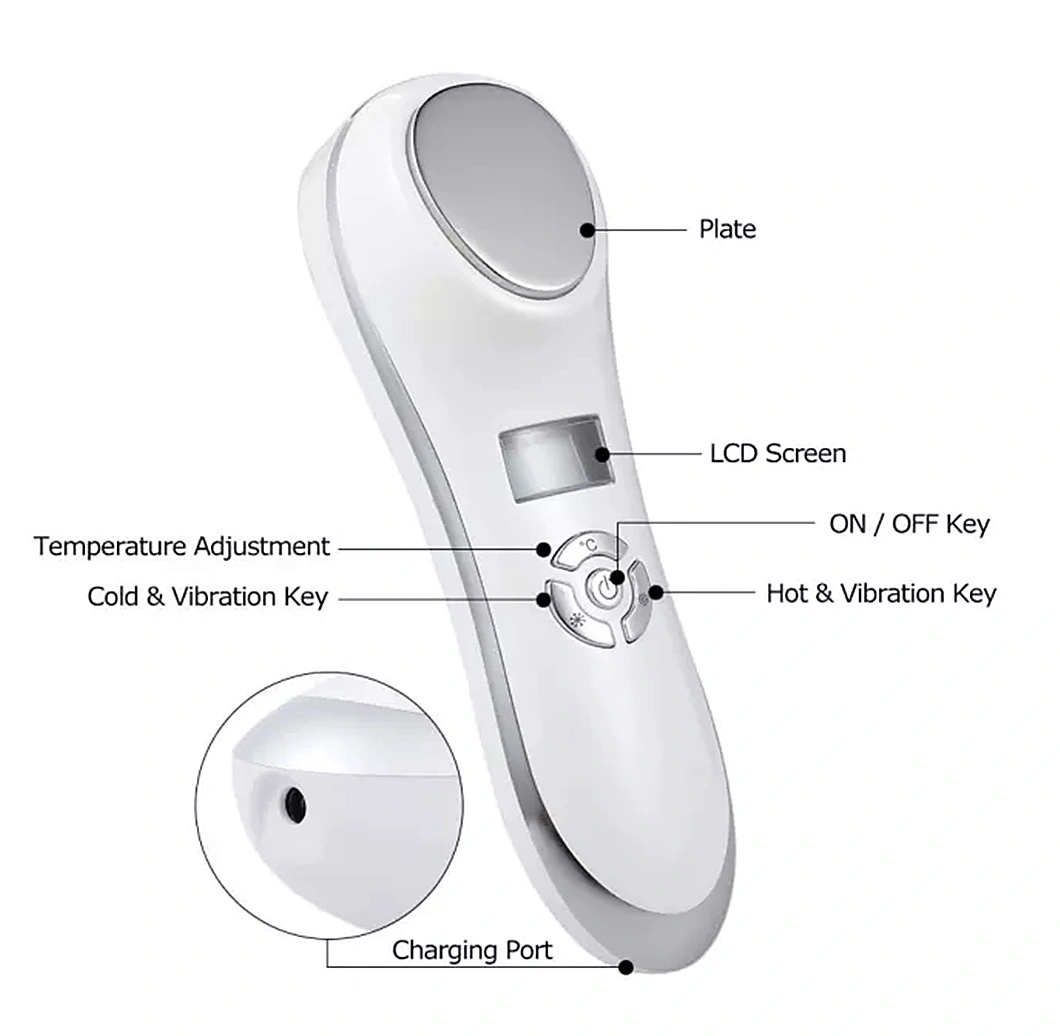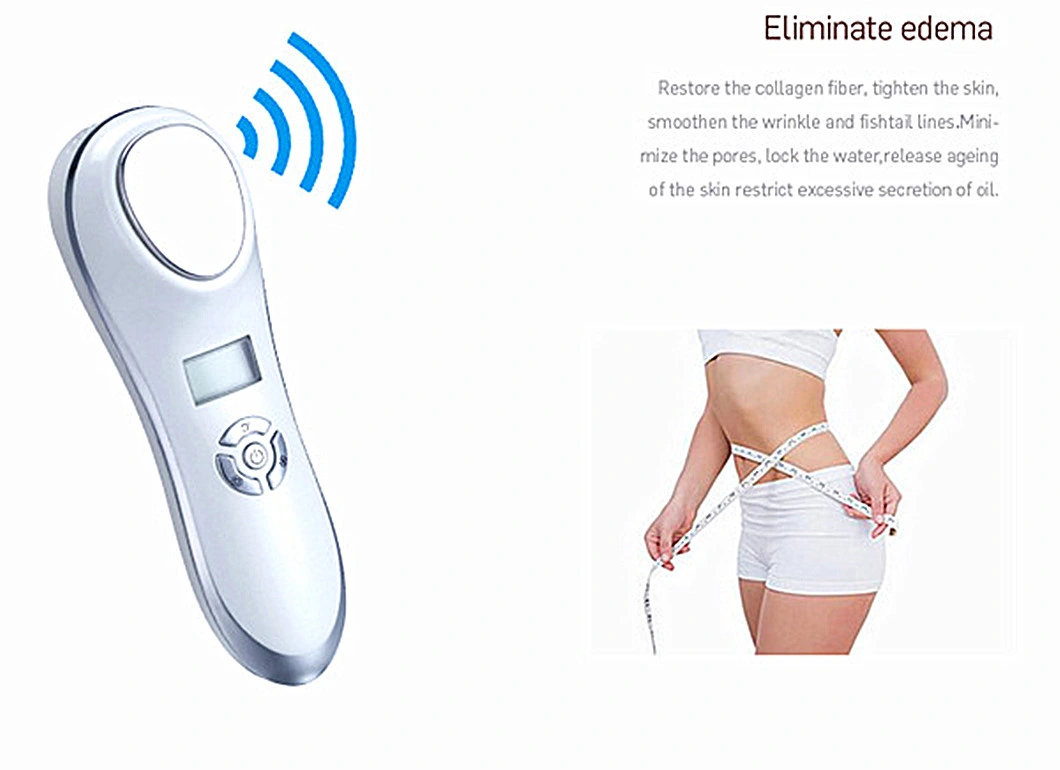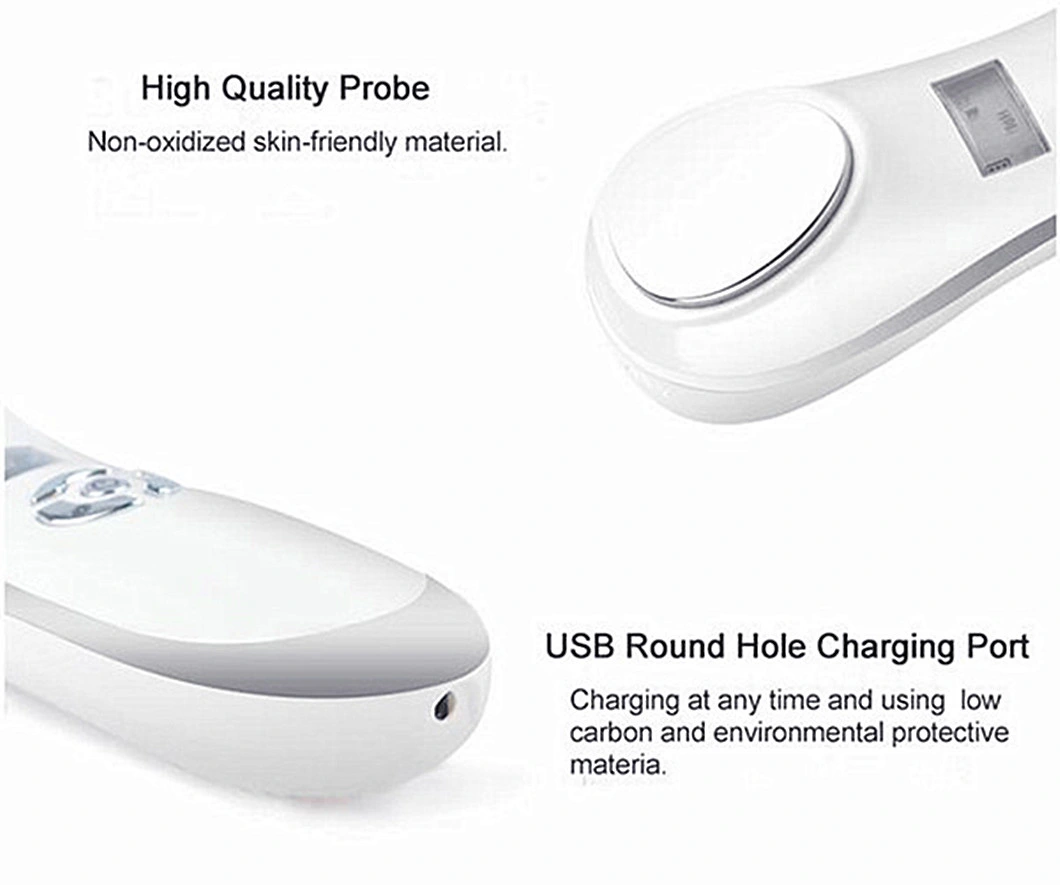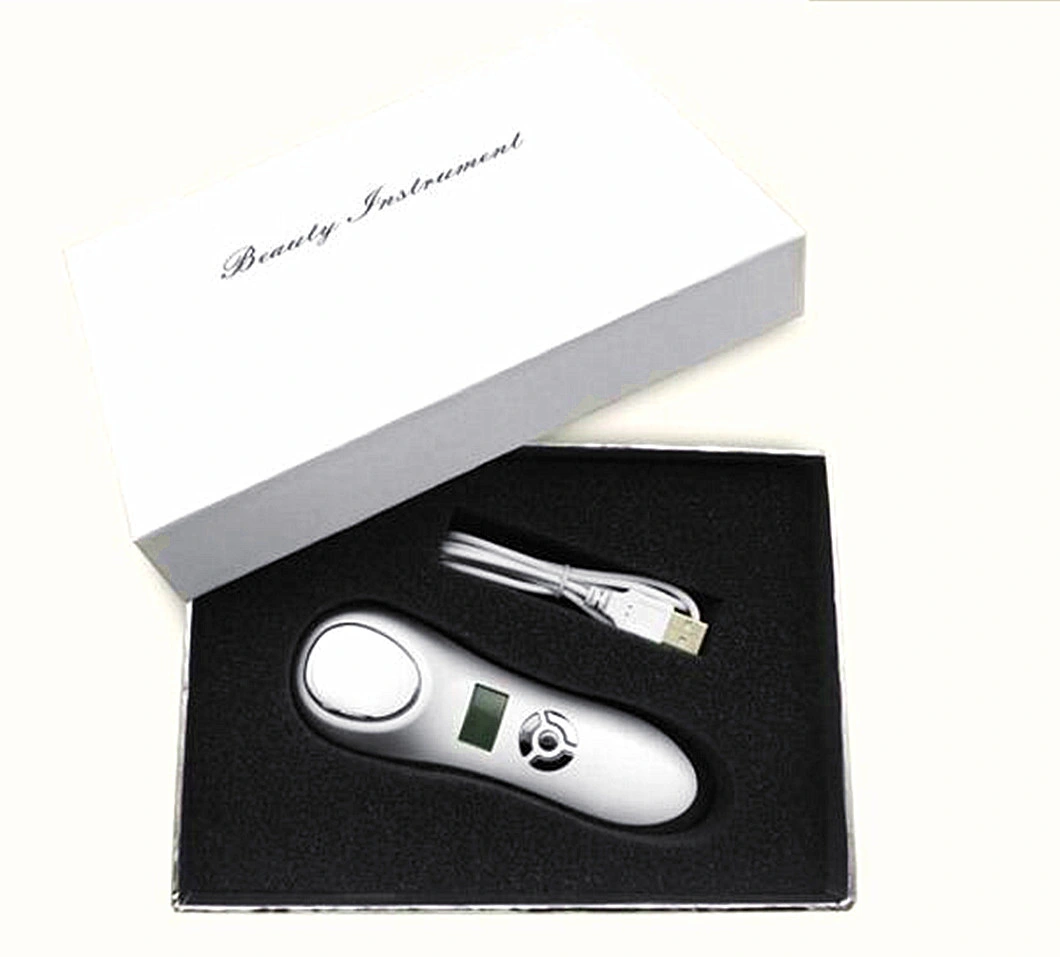 1) The massager probe can create ultrasonic vibration at the speed of 1,000,000 times per second, which is most suitable for
body care and can have effects on skin mainly in two ways: heat and vibrition.
2) The ultrasonic vibration at the speed of 1,000,000 times per second can bring changes of volume and movement to every
cell, thus have an effect of fine massager, which is called cellular massager. Cellular massager can activate and adjust cell
membrane, at the same time enhance the permeability of skin surface. Its heat action, physical and chemical action can increase
the deep skin temperature by 0.5-1C, which can benefit for absorption of nutrition and medicine, accelerate metabolism and
enhance the regeneration of fat and evacuation of tissue waste, repair lymph and capillary vessels, thus make the skin rejuvenation.
3) Furthermore, ultrasonic can introduce nutrients deep into skin.
4)The cold treatment: calming down the skin after peeling. The skin is sensitive after peeling treatment, so the cold treatment procures is necessary.
5)The hot treatment: opening pores before cleaning the skin and accelerating the absorption of nutrition.