Portable Radio Frequency RF Lifting Face Lifting Slimming Treatment
Description of Product:
1. Body & Face slimming, wrinkle removal
2. Suitable to all kinds of skin
3. 5 systems together with 5 pcs handpieces for different therapy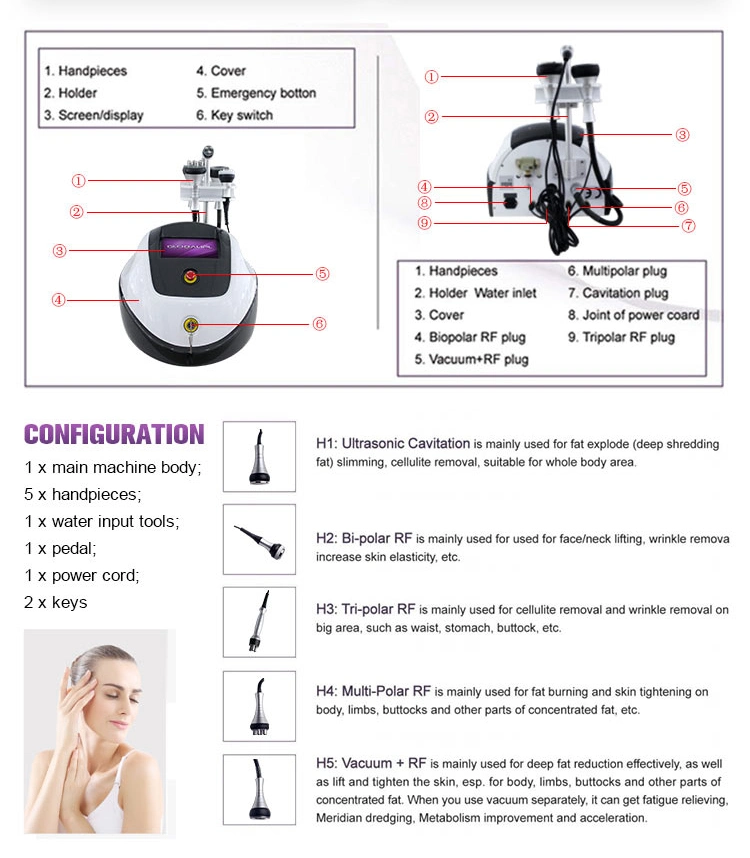 Product Advantages
1.Automatically inspection system after turning on the machine

2.The energy is transmitted to skin via the treatment head

3.Independent electro circuit, automatically stop working when electric leakage

4.The red pause switch facilitates your urgency

5.Key switch to prevent any person free to open the device

6.The operator should always ask the patient for the condition of degree (hot).
Introduction&Theory
Utilizing the Radio frequency technology of unipolar RF, bipolar RF and Tripolar RF to remove wrinkles, skin lifting & tightening; taking ultrasound for cellulite exploding and melted down through RF. Vacuum absorption is equal to or even better than the effect of other famous system. Tripolar RF acts on cellulite of absorbed skin by vacuum. thus reaching the effect of deep cellulites removal.

Product Specifications
Output power

1200W

Display

8.4 inch color touch screen

Interface language

English, Spanish, German, Italian, etc or according to your request

Machine size

40x36x112cm

Package

Aluminum alloy box

Package size

47x57x131cm

Cross weight

46Kgs
Handles

H1: Cavitation

H2: Multipolar RF

H3: Tripolar RF

H4: Bipolar RF

H5: Vacuum + Quadpoar RF

Cavitation

Frequency

40 KHz

Energy

1~50 W/cm2

Cavitation head diameter

50 mm

Tripolar RF

Frequency

6 MHz

Energy

1~50 J/CM2

Treatment head diameter

22 mm

Bipolar RF

Frequency

6 MHz

Energy

1~50 J/CM2

Treatment head diameter

40 mm

Multipolar RF

Frequency

6MHz

Energy

1~50 J/CM2

Spot size

50mm

Vacuum + quad polar

Vacuum pressure

40KPA

Frequency

6MHz

Energy

1-50J/CM2

Spot dia

70mm
Application & Features
Features:
1.Multiple handpieces for different therapy

2."Plug and play" handpiece connector, import from France completely; stable function, long using time; unique assembly standard in China now.
Advantage of our handpiece connector: insulating material, automatically close when pulling handpiece avoid dust, water or other things inside, protect machine and people again any risk.

3.High quality machine shell material

4.Suitable to all kinds of skin and people

5.Comfortable, no pain, no scar in treatment

6.Lower investment and higher income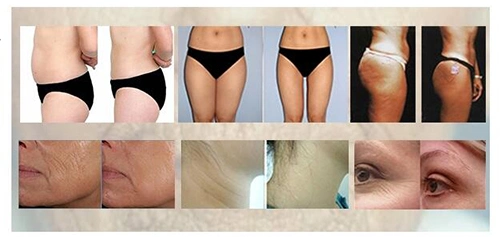 Applications:
1)Ultrasonic cavitation slimming and Cellulite reduction
2) Intensive physical lipolysis
3) Fat burning, body shaping, body slimming
4) Wrinkle removal & lift skin & skin rejuvenation
5) Promote collagen regeneration
6) Promote metabolism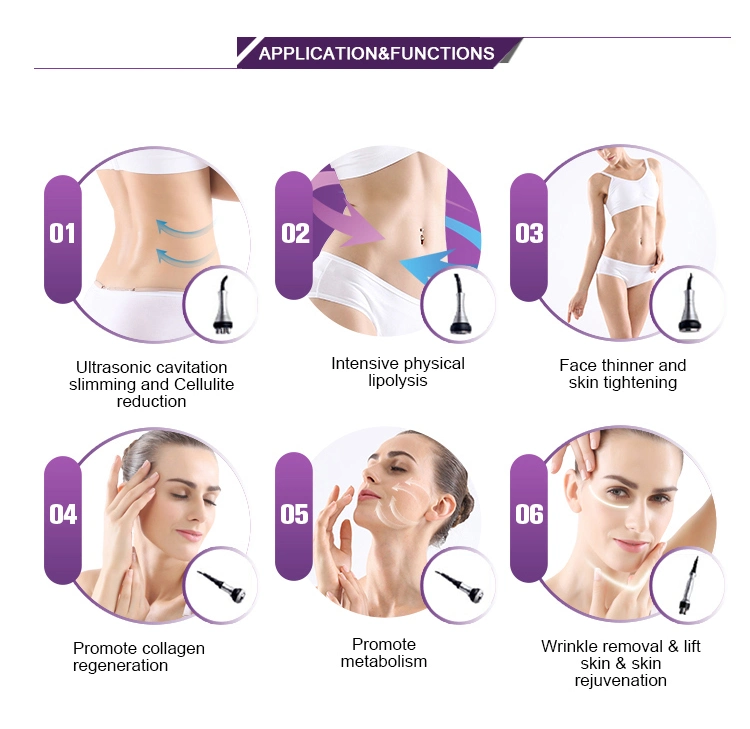 About Us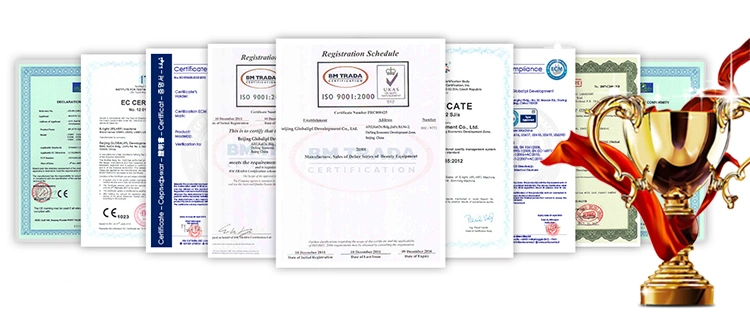 Beijing Globalipl Development Co.,Ltd is a high-tech company engaged in developing, research, production, sale and after-sale. With the customer-orientated business philosophy and the purpose of science and technology first, ensure high quality and cost-effective products for customers; which makes us gains lots of customers all over the world. Globalipl company works hard at all times, is to became a famous international OEM/ODM manufacturer of all aesthetic & medical equipments in the world.