2020 Hot selling Small Bubble Blackhead Remover for face & Small bubble facial blackhead remover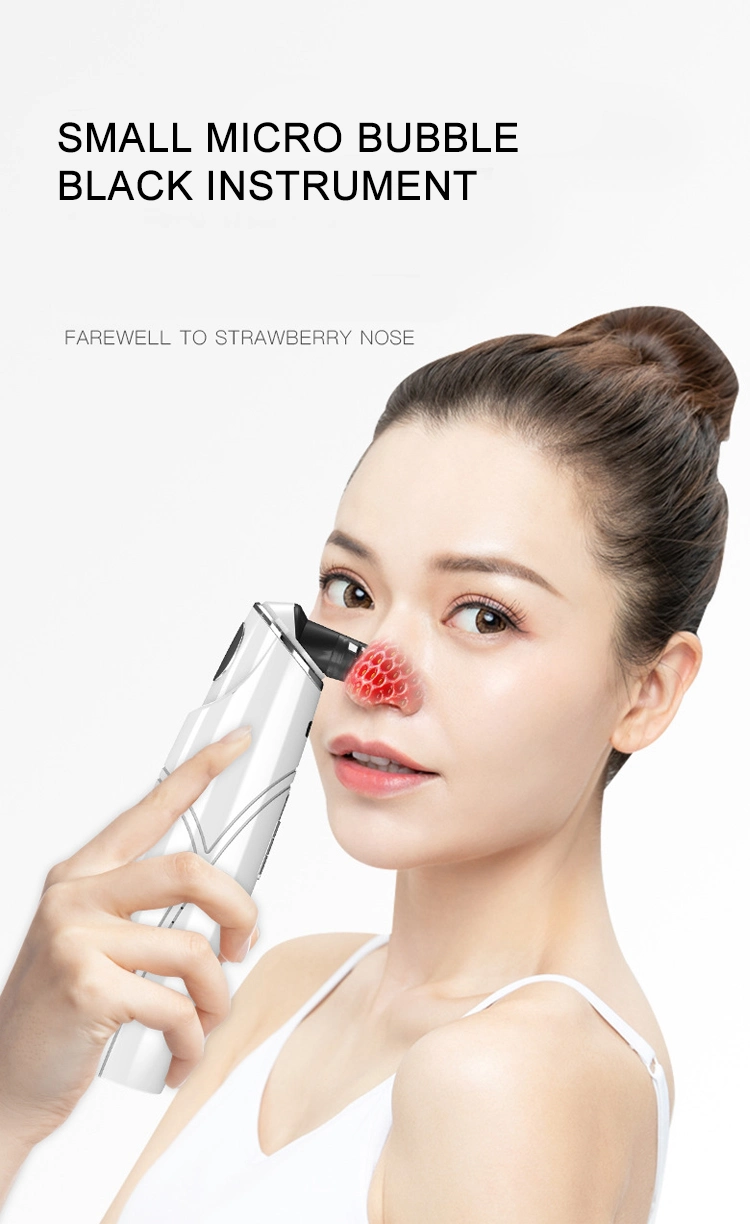 Multifunctional upgrade professional 3-level strength and 2 hole-shaped vacuum cleaners. 3 modes-1 hot compress function can open pores, 2/3 water flow rotation to clean skin, deep clean pores and garbage. One suction and one discharge, plus rinsing/synchronized operation, true deep cleaning. Blackhead removal has unmatched super suction power, helps to remove blackheads and whiteheads and clean pores,

water circulation beauty deviceThe pore suction device is a combination of vacuum suction technology and water circulation deep cleaning technology. In the vacuum suction process, bubbles are used to deeply clean the skin and enhance the effect. It not only cleans pores but also absorbs acne, reduces fine lines and improves keratin blockage. During massage, promotes water molecule absorption, water and oxygen skin care, and deep nutrition, making the skin more delicate and supple.

3 suction modes Blackhead acne removal uses level 1 to level 3 suction and 3 modes of vacuum absorption technology. You can easily choose the most suitable suction level for your different skin areas based on your skin condition (dry, natural, oily). Low force can be used for sensitive skin, medium force can be used for small blackheads, strong force can be used for large blackheads or pores. Super suction. It is recommended to use level 1 first. Most people are generally enough.

Instructions for use Maintain the posture for no more than 2 seconds. Don't start with high intensity, but start with low intensity, then gradually increase the pressure , Use the hot compress function on the face or use a hot towel to open the pores, Then use the device, Finally use a mask or skin care product to reduce pores, The air tilt must be less than 45 degrees when the vent is working, otherwise the vent will alarm and overflow,If you don't understand,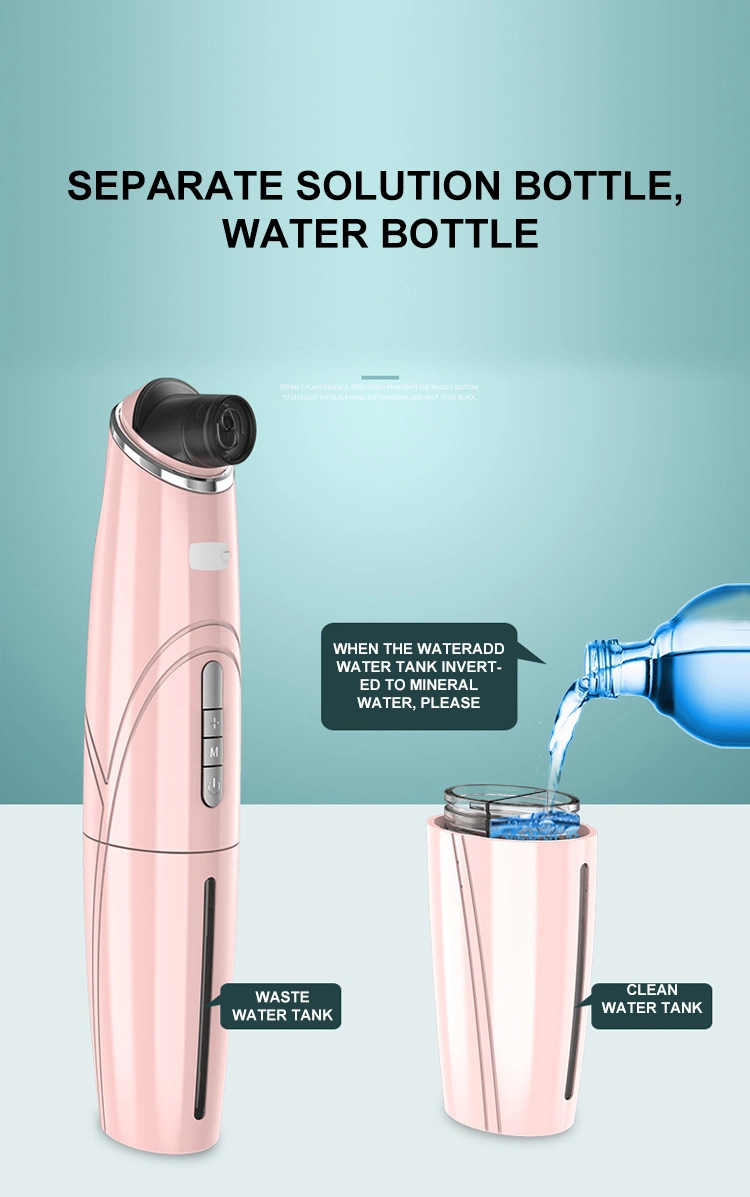 Blackhead Remover Instructions for use
1. Click the power button to start;
2.Press "M" to enter the mode selection,Press again for heating function, Press again to switch back to suction mode,The gear does not remember;
3.The "+" key is for the selection of gear strength,The adjustment function has three levels,cycle;
4.If in suction mode,Switch back to the heating function in the third gear, Then switch back to the suction mode,The gear does not remember;
5.When using the black head mode,Determine whether the product is tilted (45*).The product is not tilted,normal work;If the product tilt is greater than 45°,
At this time the machine stops working,And the colored lights start flashing,The buzzer drops for three seconds,Return to normal
state within 10 seconds,The alarm is cancelled,The suction power returns to working condition again,If it does not return to normal after 10 seconds,The product shuts down.
6.When using the heating import mode,Suction does not work.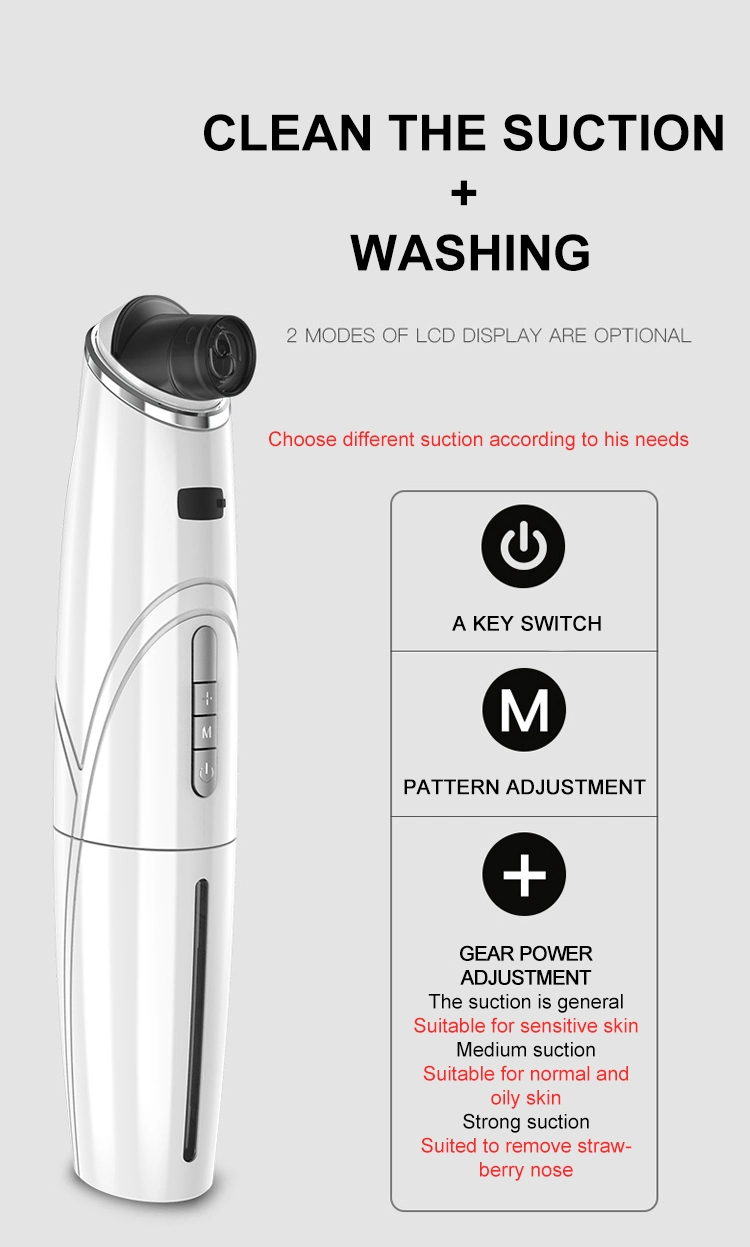 Skills
(1)After turning on,The tip cannot stay on the same part for a long time,Need to keep sliding and lifting (Remember not to stay in the same place for a long time.)
(2)Each sliding and lifting distance can be 1-2 cm.
(3)There is a water mark on the part after sliding away.
(4)After using this product Redness on the face,Is a normal reaction,It usually disappears in 5-10 minutes,
(5)Can use heat conduction function,Apply heat to the skin.